Secure Password Manager for Windows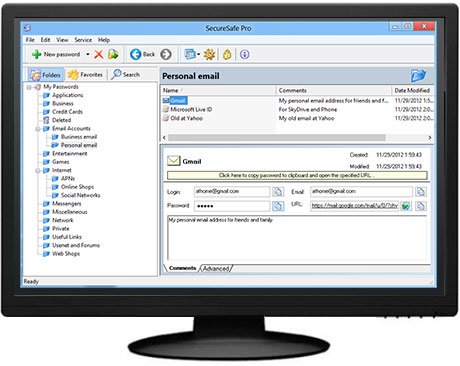 Keep your passwords, credit card numbers, documents, notes and other private data inside a secure storage protected by a single master password.
Fully customizable fields for every entry. Ability to launch files and open documents directly from the secure storage. Favorites panel for accessing most used passwords quickly. Fast search.
Works under Windows 8 (as a desktop app), Windows 7, Windows Vista, XP or 2000. Can be installed on a flash drive and used as a portable app on any Windows-driven computer.
Download free evaluation
Buy a license
Secure Storage
SecureSafe Pro keeps all data inside a single secure storage encrypted by military grade encryption algorithm AES.
Passwords, Credit Cards and Notes
SecureSafe Pro has 5 predefined templates: for passwords, credit cards, files, notes and URLs.
Keep Files Inside
SecureSafe Pro can keep files (documents, photos, music or other) inside a secure storage and launch them instantly.
Fully customizable fields
Create as many specific fields for each record as you wish. Store full information related to the item in a single record.
More than 300 icons to customize your data
Using SecureSafe Pro you can assing one of more than 300 icons to each item for better data representation. Personalize your password safe!
Free trial, fair price and money back guarantee
The evaluation of SecureSafe Pro is 100% free and the license price includes all possible sale taxes and 90 day money back guarantee!